Challenge
When dealing with architects, inspiration and expression is everything. Architects are creative souls seeking to explore and combine new materials on their own, creating unique atmospheres in which modern society can thrive. Unique architecture demands exclusive materials. Ultima is a unique brick in an exclusive long format. A unique material deserves a special presentation. UX out of the ordinary. Showcases of small miniature works of art, unique features and a distinct identity. Exactly that is the sweet spot of this website.

We place Ultima as the architects' preferred brick choice for exclusive and visionary projects. The result is an inspirational deep dive into a creative universe packed with animations, UX-writing and storytelling that builds anticipation and positions the Ultima brand distinctly and appetizing.
Dynamicweb as a solution
Powered by a seamless integration between HubSpot and the Dynamicweb All-in-One platform, the Ultima site drove a significant rise in traffic to the site. The continuous optimization of data, behaviour and retargeting meant that the architect universe and the exclusive Ultima bricks nudged visitors to get in touch with an expert. The dialogue with architects being the main objective of the site.

Explore and scroll through the Ultima narrative. Born by nature. Refined through generations. And shaped in a format that has a particular architectural potential. Ultima is the culmination of the Nordic natural abundance and a vision of creating architecture with a unique signature. The user is tempted by the horizontal slider with drag function. A re-imagined version of the traditional product overview, which offers delicious navigation between references and the Ultima series products.

Effortless and easily loaded visuals, making the scrolling experience vivid and addictive for the user. A minimalist and spacious design gives the images focus and inspires the visitor. A reinterpretation of the outdated drop-down menu creates both overview and tranquillity, so that navigation is easier, and the options appear clear. In short: Better UX. Moodboard overview is presented with parallax and zoom effect in a delicious smooth flow that spices the Ultima products with extra inspiration for design choices and materials for the modern home.

Furthermore, Dynamicweb as an All-in-one platform has integrated an array of utilities to combine Randers Tegl's product in new and interesting ways. The visual tool lets the user dream of new fascinating homes, the calculator to calculate brick and mortar volumes, the search engine to explore the immense content universe and the webshop for product requests, samples etc.
Results
The webpage created 169 leads and drove 53,75 % more traffic compared to a similar period the year before. Being a high-end product in a competitive industry, this is a significant rise in traffic when dealing with the elusive architects online.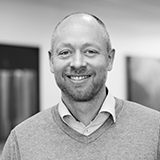 "The website communicates our Ultima story beautifully and inspiringly through creative content, animations and a strong user experience that link product and brand together in a complete digital narrative."
- Laust Ejstrup, Marketing Director at Randers Tegl A/S